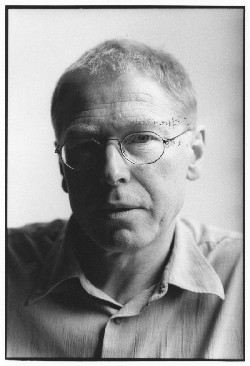 JEFFREY WAINWRIGHT was born in Longton, one of the six towns of Stoke-on-Trent, Staffordshire, England, on 19 February 1944. He is the only child of Sidney and Nellie Wainwright, both of whom worked in the local pottery industry: Sidney as a clerk-cashier and Nellie as a decorator. Jeffrey's primary education was at Florence County Primary School and then from 1955-62 at Longton High School.

From 1962-7 he attended the University of Leeds where he took a BA Hons English, 2 (i) in 1965 and an MA in English & American Literature in 1967 with a dissertation on 'The Early Poetry of William Carlos Williams'. At Leeds he met and learned from many poets who worked in or around the School of English including Jon Glover, Geoffrey Hill, Jon Silkin and Ken Smith. He was Editor of the long-standing (and continuing) Poetry and Audience (then a weekly magazine) and published in other student magazines. He was Cultural Affairs Secretary, Leeds University Students' Union Executive 1965-6. His first poems to be published nationally were in Stand - then edited from Leeds by Jon Silkin and Ken Smith - in 1966.

From 1967 to 1973 he was Lecturer in English & American Studies at the University College of Wales, Aberystwyth.

Between September 1970 August 1971 he was Visiting Assistant Professor, Long Island University, Brooklyn, New York, during which time he travelled all over the USA.

In 1973 he moved to a post as Lecturer in English at Manchester Polytechnic, later Manchester Metropolitan University.

In Autumn 1985 he was Judith E Wilson Fellow in Creative Writing, Faculty of English, University of Cambridge and Fellow Commoner at St John's College.

In 1999 he was made Professor of English at Manchester Metropolitan University. He retired from this post in March 2008 to concentrate on writing.

He and his wife Judith Wainwright live in Manchester, with intervals in Italy. Now retired she worked in secondary and further education in Manchester since 1974 and is the author, with Jackie Eames, of the textbook for A-level English Language, Your Own Words (Nelson, 2nd edition 1999). They have two children. Tom Wainwright, a successful club DJ for many years and now a lawyer, also lives in Manchester with his daughter Lila and son Louie. Holly Wainwright lives in Sydney, Australia, with her partner Brent McKean and their children Matilda and Billy, where she is a journalist and editor.